Race Preview: Ronde Van Vlaanderen
Belgium's super bowl Sunday brings April in like a lion.
Many sports fan have a list of a can't miss sporting events. Events like The World Cup, Olympics, Tour de France, the NFL's Super Bowl, are just a few. For cycling fans, the Ronde has to be on that list. While the Tour de France is a grand spectacle, the Ronde Van Vlaanderen is more like a UFC cage match.
One of the things typifies the Tour of Flanders mania is the route. The race route frequently passes by the same locations 4-5 times, making it possible for fans to view the race in more than one location. There's even an informal annual competition to see which fans can see the race as it passes by the most times!
If you think we're joking, take a look a look at the map for the final 100km:
From the rider's perspective, the Ronde is decided over the final half of the race which includes 18 steep climbs. Climbs #8 and #9, the Paterburg and Koppenburg, are usually where we see the true race contenders coming to the front. If there is a rider struggling at the back on the Koppenburg, that doesn't bode well for his chances later in the race.
After the Koppenburg there are still 9 climbs remaining before the finish in Ninove. Traditionally, the field gets whittled down to 20 or 30 riders who are still into contention by the time the riders hit the Muur-Kapelmuur climb. The Muur begins in downtown Geraardsbergen, and climbs to the town chapel with a maximum gradient of 20%! You can view a video of the 2010 race going over the Muur at the bottom of the page.
Team Garmin-Cervelo will be looking to continue a strong classics season at the Ronde.
Our full roster for the Ronde Van Vlaanderen is:
Tyler Farrar, Roger Hammond, Heinrich Haussler, Thor Hushovd, Andreas Klier, Daniel Lloyd, Matt Wilson and Sep Vanmarcke.
It should be a fantastic day of racing, stay tuned to our team site for a full recap and photo, like us on Facebook, or follow us on Twitter for the latest race updates!
Watch the battle on the Muur-Kapelmuur from last year's Ronde Van Vlaanderen: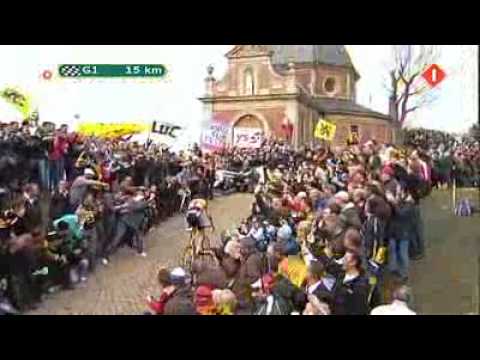 More photos from previous editions of Milan-Sanremo: